Hey guys, it's Thursday so you know what that means!
This weeks theme for
Book Travelling Thursda
y is:
Here's to different worlds (Choose a book set in a fictional world.)
There were so many different options for this, as the majority of fantasy novels are set in a fictional world, and I obviously could easily have talked about Hogwarts for ten pages, but I wanted to be slightly more original for this post.
So, I chose:
The Hunger Games
which is of course set in the world of
Panem
.
Original cover:
This is the cover of the edition I have. I think it's quite nice, I like the symbolic mockingjay pin on the left and the simplicity of the text. The geometric shapes in the background look super cool and the gold pin stands out amongst the other plain colours.
Favourite covers:
(Turkish)
(Romanian, kindle)
I honestly think these two covers are beautiful. The Turkish one on the left is super simple but again I love the symbolic gold mockingjay pin and how it contrasts with the silver background. These are also just colours I love so together it's beautiful and royal like. The Romanian cover is really different and that's why I like it. I feel like it's one of those covers you either love or hate, and although I don't think it really relates much to the book, I think it's gorgeous. The green is really bold and stands out, and it could be interpreted as hiding, which I guess relates to The Hunger Games in some aspects. I can't really pinpoint exactly why I love this cover but I do.
Least favourite covers: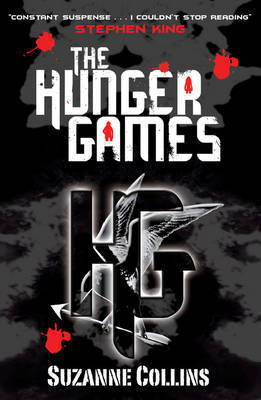 Both of these are just gross. They're harsh on the eye, especially the neon pink and green which just completely clash and the one on the left is just too boring in my opinion and I don't really like the font of the text or the red splatters in random places along the cover.
This is just my opinion of course, not to offend anybody.