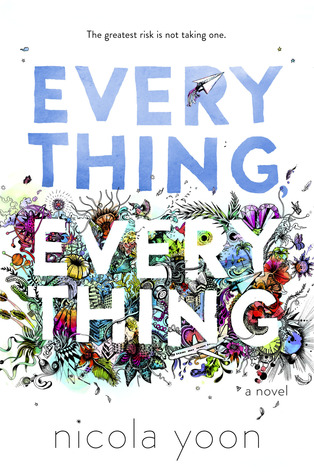 Publication date:
September 1st 2015
Publisher:
Delacorte Books
Goodreads synopsis:
My disease is as rare as it is famous. Basically, I'm allergic to the world. I don't leave my house, have not left my house in seventeen years. The only people I ever see are my mom and my nurse, Carla.
But then one day, a moving truck arrives next door. I look out my window, and I see him. He's tall, lean and wearing all black- black T-shirt, black jeans, black sneakers and a black knit cap that covers his hair completely. He catches me looking, and stares at me. I stare right back. His name is Olly.
Maybe we can't predict the future, but we can predict some things. For example, I am certainly going to fall in love with Olly. It's almost certainly going to be a disaster.
Cover-

I think this cover is absolutely beautiful. It's a very clean white and crisp but then there is just an explosion of colour and patterns and images around the bottom word of the title which just looks so lovely and is very powerful. It's a simple cover but I feel like it works really well.
Plot-

I'd heard a lot of hype surrounding this book and it definitely did not disappoint. The idea of this book is so unique and fresh, I've never heard of a story like it which is one of the main things that intrigued me. It was interesting to see how Maddy's life was with this illness that didn't allow her to even leave her own house, and how she coped with being stuck inside all day. It was a very well developed plot line and it was good to see how meeting Olly changed everything she'd known for so long.
Characters-

I really liked the character development of Maddy within this book. She was already such a strong and determined character and I really liked how upbeat she was about her life, even though she didn't get to do things other teenagers do, she was appreciative of her life and the people close to her which I think is really important. She did annoy me at times though, I feel she made some rash decisions and let her emotions take over too much- although this is relatable. When she meets Olly, she becomes more wild and reckless but in a lovely way which shows how life is a gift and you need to do things that make you happy. There are so many important messages behind this book. Olly was a really great character too, he was dealing with a lot but still managed to stay happy and he was very understanding of Maddy's condition and the limitations that would have on their relationship. I didn't really like how quickly their relationship developed, it seemed very rushed and unrealistic with the way some events panned out. Carla was definitely my favourite character, she was always there for Maddy, was loyal and caring and always did the right thing.
Writing-

The writing was my favourite thing about the book. I absolutely flew through this book, I read it in one sitting which is so unusual for me. I adored how short the chapters were and how there were text messages and emails and illustrations allowing us to get more depth from the characters and understand more than one perspective. It helped me to connect with Maddy a lot. This was such a fun, easy Spring read and I will be picking up Nicola's other book very soon.
Overall-

This was a cute read, the writing style was something I really enjoyed and the plot was very unique. The character development was really good and I would definitely recommend picking this book up if you're in a reading slump or just want a quick and easy contemporary read.