Hey guys, it's a Thursday so you know what that means! Book Travelling Thursdays is a weekly meme created by Catia where we discuss book covers relating to a certain theme. If you would like to join in the fun, or just have some more information, I'll leave the Goodreads page linked here.
This weeks theme is: International day for the Elimination of Racial Discrimination was a couple of days ago- Choose a book with a POC as a main character.
When looking back through my books to pick one for this week, I realised I really haven't read that many books with a POC as a main character, which I didn't realise and I'm quite disappointed in myself, so will definitely be making sure to read more diversely this year! I picked a book which I seem to talk about in pretty much every post these days but it's so fantastic and has a black girl as the main character and that is Paper Butterflies by Lisa Heathfield.

Shock, I know. I haven't done a BTT for this book yet though so I'm glad I've found an excuse to do one! There are only two covers for this book and both are English so I'll just be talking about those two.
Original and least favourite cover: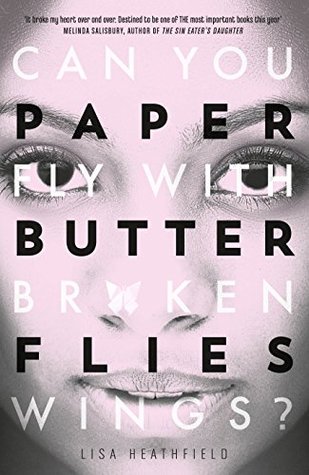 You all know by now that I hate faces and people in covers of books. I don't like the fact you can barely read the writing in white and the way the title is lay out. I do like the colour scheme and the fact there is no colour on it as it shows the depth of the book.
Favourite cover:
This to me screams, cute contemporary. This is the edition I own and I really only picked it up because I basically just look for covers that are simple and those pastel colours that all contemporaries have and pick them up. I don't think this cover shows how dark and deep the story will actually be but I still like this cover a lot more than the other one. The background colour is cute and the butterflies made of paper are so symbolic.
It's been short this week but let me know in the comments which of these covers is your favourite and if you haven't picked this book up yet, definitely do!